Art Gallery
---
The paintings, sculptures and computer arts presented in this section were realized by both Italian and foreign Disney comic enthusiasts, especially fans of Donald's masked alter-ego and not by professional Disney artists.
Whoever would like to exhibit his work dedicated to Paperinik or other characters which are related to him, can send his pictures by e-mail to the following address: andrea.salimbeti@tin.it


DUCK AVENGER AND THE THREE TOWERS CASTLE
artist: Vitalij Lega (Italy)
Computer graphic drawing


FANTOMALLARD
artist: Andrea Salimbeti (Italy)
Putty sculpture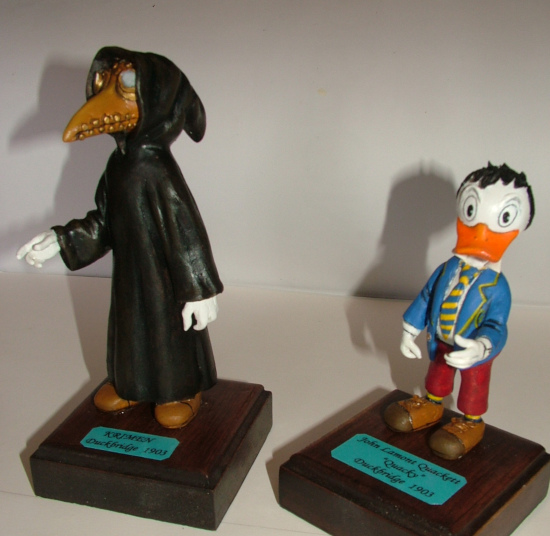 JOHN QUACKETT "QUACKY" AND PROF. KRIMEN 1903
artista: Andrea Salimbeti (Italy)
Putty sculpture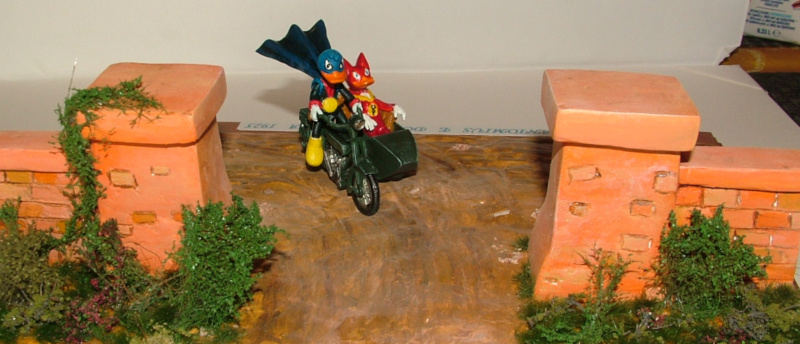 FANTOMALLARD'S SIDECAR 1925
artist: Andrea Salimbeti (Italy)
Putty sculpture and metal sidecar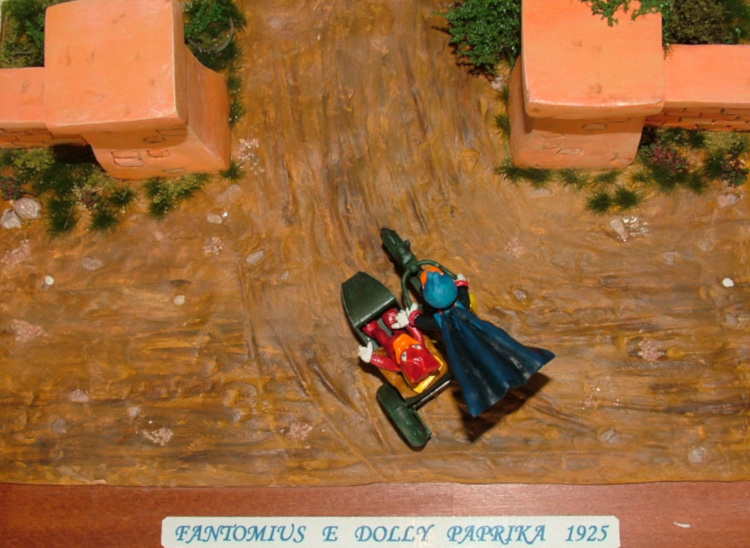 FANTOMALLARD'S SIDECAR 1925
artist: Andrea Salimbeti (Italy)
Putty sculpture and metal sidecar


FANTOMALLARD
artista: Andrea Salimbeti (Italy)
Putty Sculpture


FANTOMALLARD
artista: Andrea Salimbeti (Italy)
Putty Sculpture


BLACK MUSTARD AND DARK PAPRIKA 1930
artist: Andrea Salimbeti (Italia)
Putty Sculpture


BLACK MUSTARD AND DARK PAPRIKA
artist: Andrea Salimbeti (Italia)
Putty Sculpture


THE PHANTOM OF NOTRE DUCK
artist: Andrea Salimbeti (Italia)
Putty Sculpture


THE PHANTOM OF NOTRE DUCK
artist: Andrea Salimbeti (Italia)
Putty Sculpture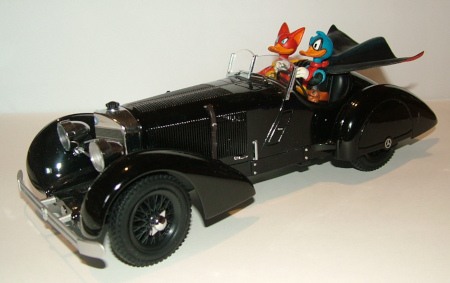 LAST FANTOMALLARD's SPECIAL CAR 1930
artist: Andrea Salimbeti (Italy)
putty sculture + modified model car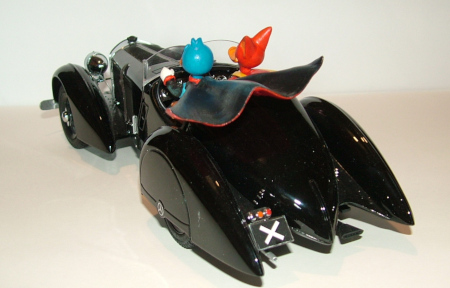 LAST FANTOMALLARD's SPECIAL CAR 1930
artist: Andrea Salimbeti (Italy)
putty sculture + modified model car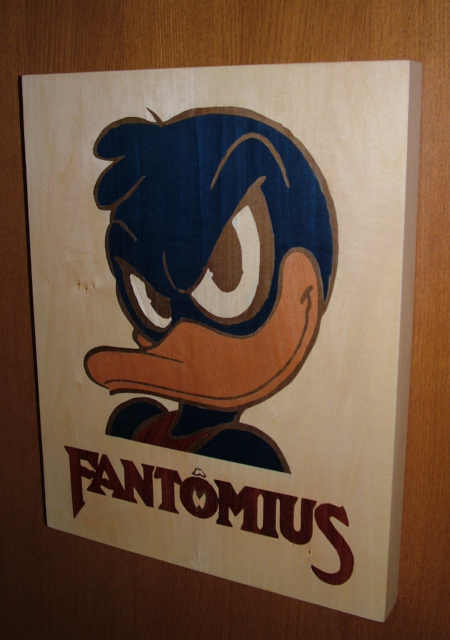 FRAME OF FANTOMALLARD
artist: Antonio Marchitto (Italy) facebook reference Tony and wood
Frame made with wood elements.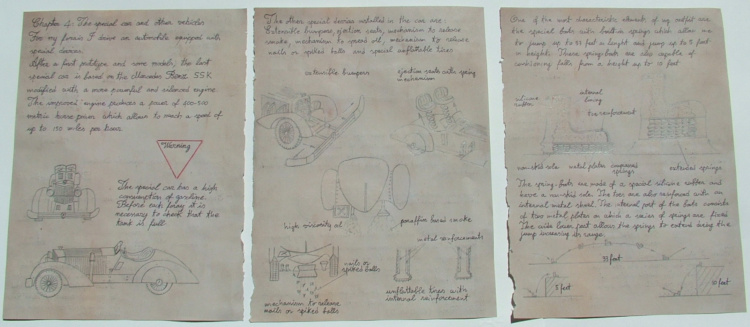 SOME PAGES OF THE FANTOMALLARD'S DIARY
artist: Andrea Salimbeti (Italy)
Draming and write on ancient like paper.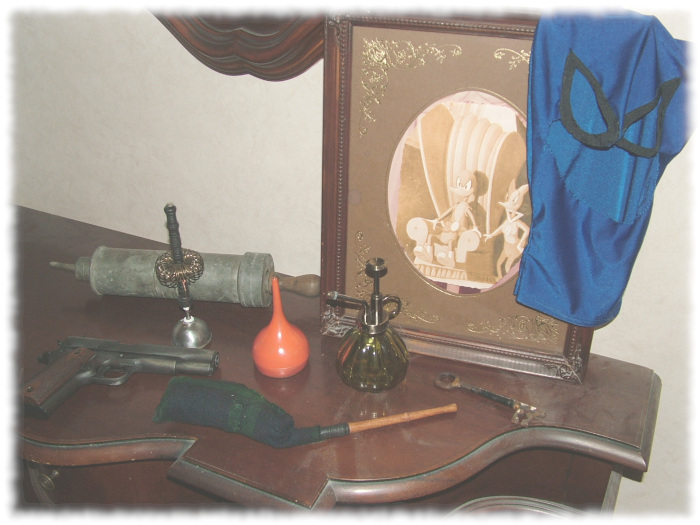 ITEMS FOUND IN VILLA ROSE
artist: Andrea Salimbeti (Italy)
Vintage photo of Fantomallard and Dolly Paprika, colt model 1911, Blue mask, Bulb of special acid, Sleep gas, Villa Rose key, Corrosive liquid spray, Hypnotic liquid spray, electro-mechanic unidentified device.


LORD QUACKETT alias FANTOMALLARD
artist: Andrea Salimbeti (Italy)
putty sculture


LORD QUACKETT alias FANTOMALLARD
artist: Andrea Salimbeti (Italy)
putty sculture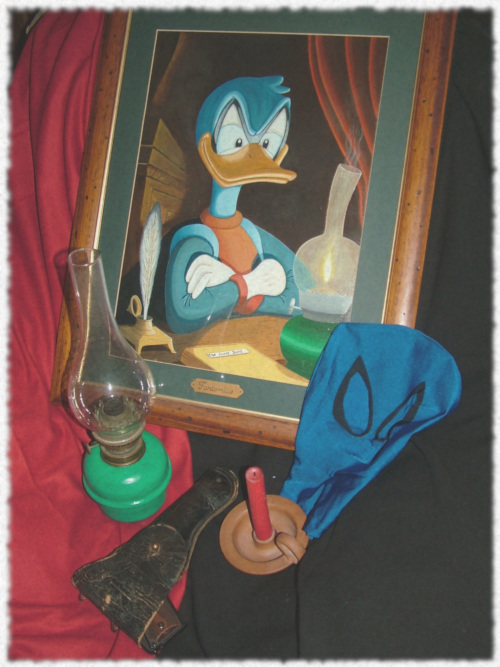 ITEMS FOUND IN VILLA ROSE
artist: Andrea Salimbeti (Italy)
Portrait of fantomallard, hypnotic oil lamp, double effect candle, colt .45 model 1911, blue mask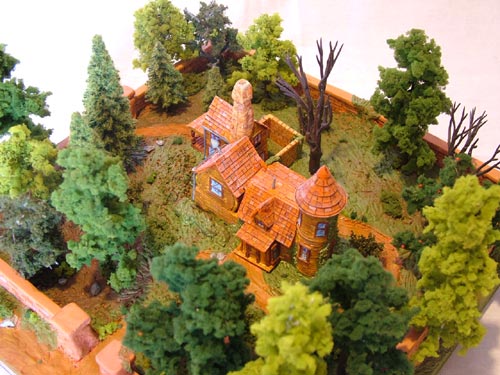 VILLA ROSE, Roses' Hillock in the Rosary locality of Squash County
artist: Andrea Salimbeti (Italy)
Centauria model modification


VILLA ROSE, Roses' Hillock in the Rosary locality of Squash County
artist: Andrea Salimbeti (Italy)
Centauria model modification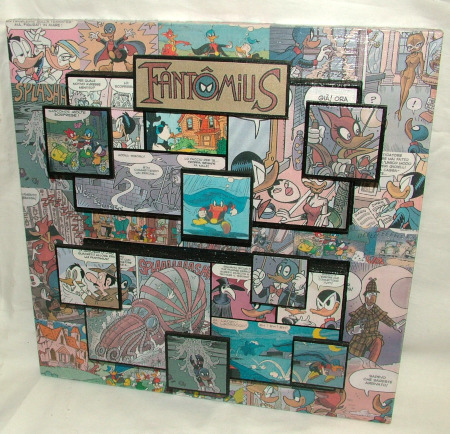 FRAME OF FANTOMALLARD
artist: Andrea Salimbeti (Italy)
Collage of images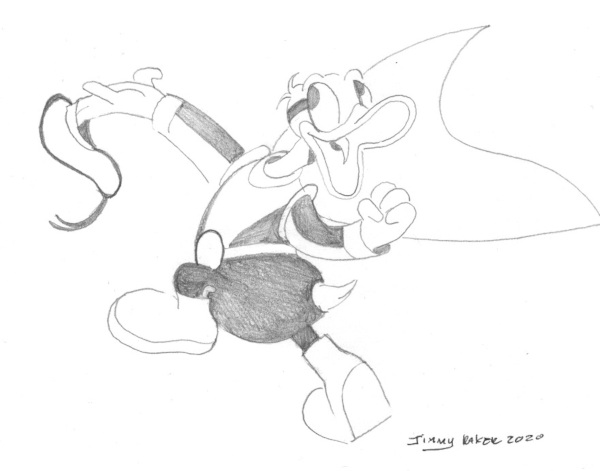 DUCK AVENGER
artist: Stephane Durand (France)
Pencil drawing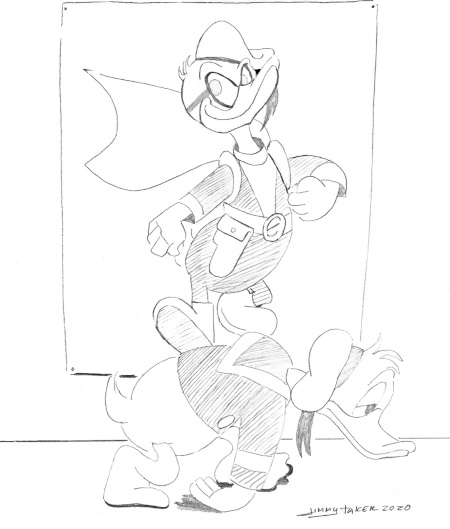 DONALD AND DUCK AVENGER
artist: Stephane Durand (France)
Pencil drawing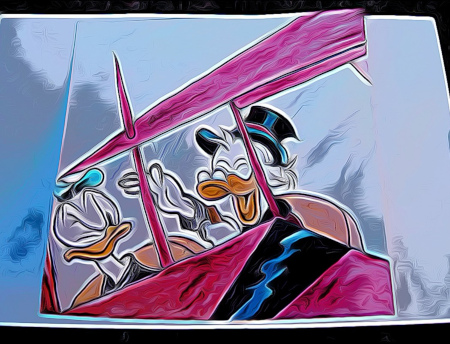 SCROOGE MC DUCK AND DONALD
artist: Fabrizio Scalese (Italy)
Oil color drawing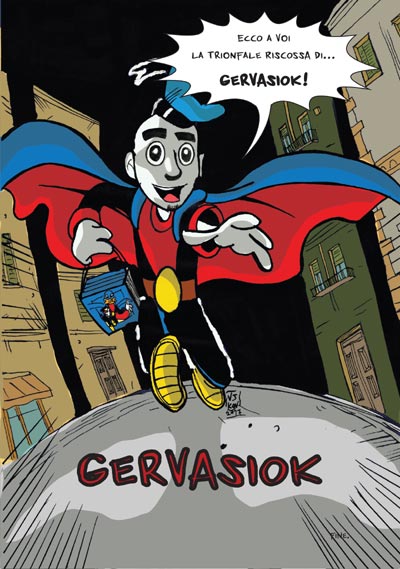 GERVASIOK
artista: Vjkov (Italy)
Computer graphic drawing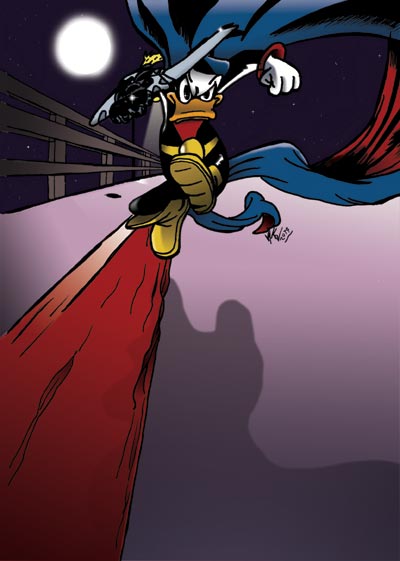 PK
artista: Vjkov (Italy)
Computer graphic drawing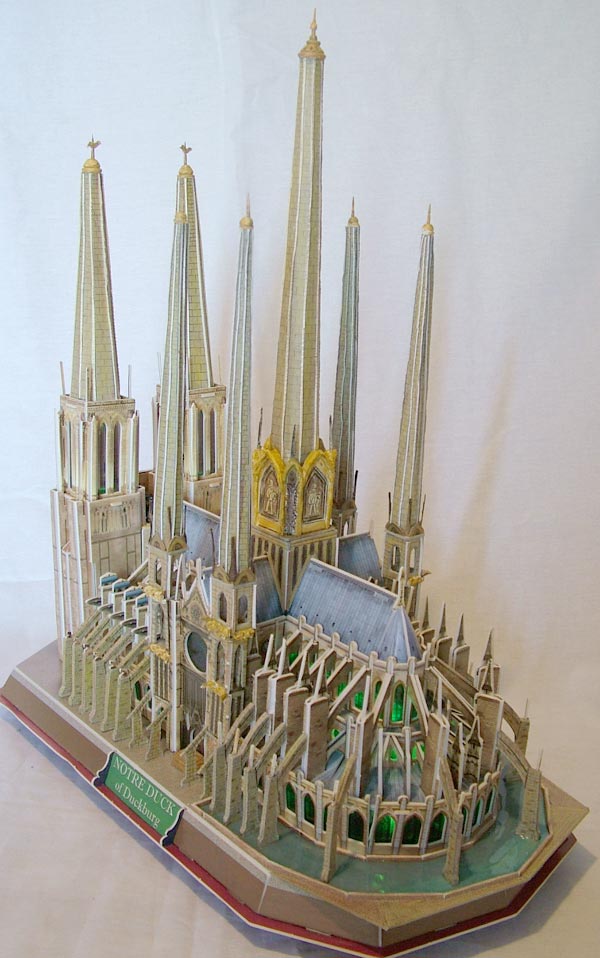 NOTRE DUCK
artista: Andrea Salimbeti (Italy)
Paper Model


NOTRE DUCK
artista: Andrea Salimbeti (Italy)
Paper Model


THE PHANTOM OF NOTRE DUCK
artista: Andrea Salimbeti (Italy)
Mini putty sculture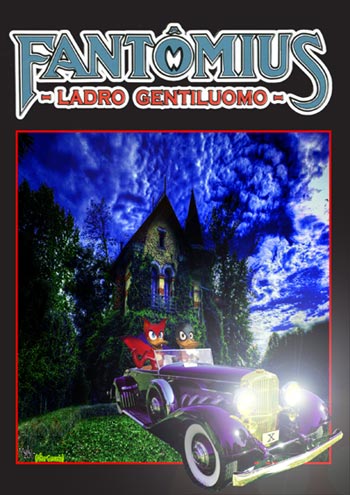 FANTOMALLARD AND DOLLY PAPRIKA
artist: Fabrizio Milovich (Italy)
photoshop elaborated image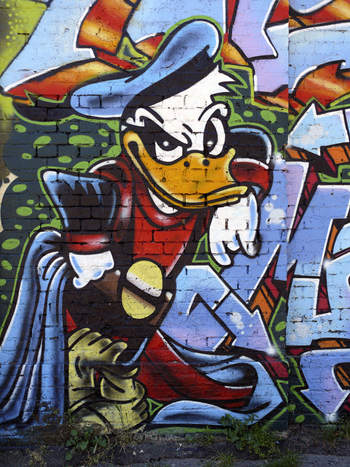 DUCK AVENGER
artista: Unknown (Germany)
Paint on Berlin's wall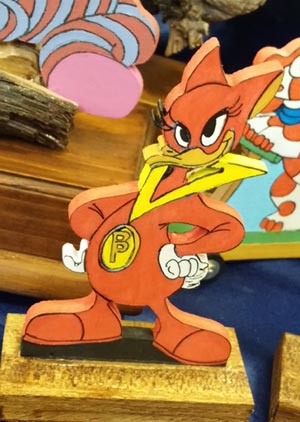 Dolly Paprika
artist: Unknown (Italy)
Wood figurine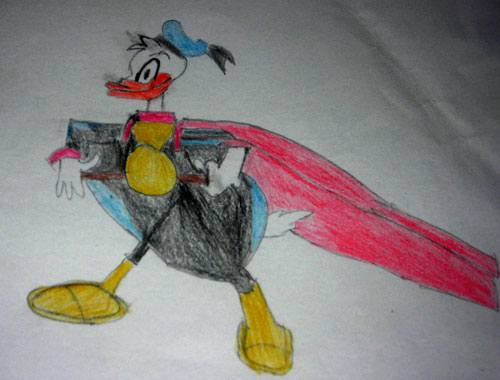 DUCK AVENGER
artist: Lorenzo Luciano (Italy)
Pencils drawing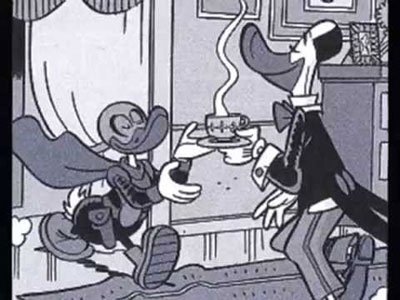 Short movie based on the FANTOMALLARD adventure SILENZIO IN SALA (SILENCE IN THE THEATRE)
artist: Eros Laguardia (Italy)
FANTOMIUS-SILENZIO IN SALA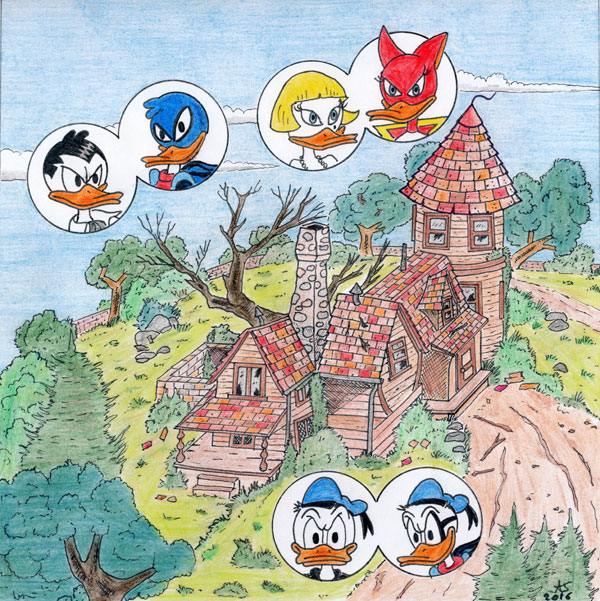 VILLA ROSE
artist: Andrea Salimbeti (ItalY)
Pencils drawing


LORD JOHN LAMONT QUACKETT
artist: Giulio Golinelli (ItalY)
Modelling putty sculture


LORD JOHN LAMONT QUACKETT
artist: Giulio Golinelli (ItalY)
Modelling putty sculture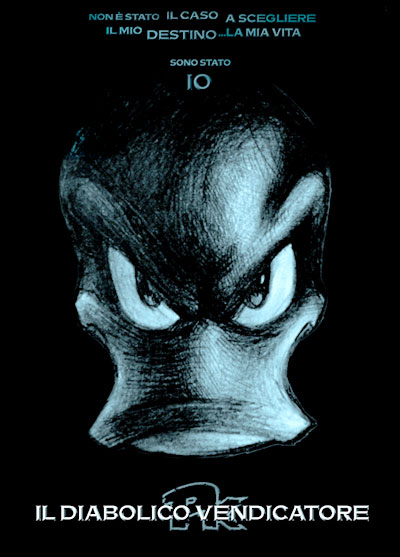 DUCK AVENGER THE DEVILISH AVENGER
artist: Elia Aliberti (ItalY)
Computer elaborated drawing


DUCK AVENGER AND OTHER CHARACTERS
artist: Vitalij Lega (Italy)
pencils drawing


THE MENACE
artist: Vitalij Lega (Italy)
pencils drawing


PAPERINIK AND THE INK
artist: Vitalij Lega (Italy)
pencils drawing


TERROR!
artist: Vitalij Lega (Italy)
pencils drawing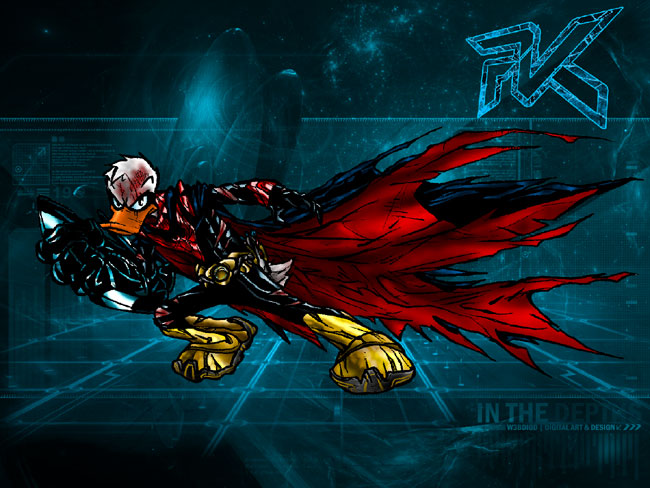 PK FINAL
artist: Elia Aliberti (ItalY)
Computer elaborated drawing


PAPERINIK
artist: Vitalij Lega (Italy)
pencils drawing


PAPERINIK
artist: Vitalij Lega (Italy)
pencils drawing


PAPERINIK
artist: Vitalij Lega (Italy)
pencils drawing


PAPERINIK
artist: Vitalij Lega (Italy)
pencils drawing


PAPERINIK
artist: Vitalij Lega (Italy)
pencils drawing


PAPERINIK
artista: Vitalij Lega (Italy)
pencils drawing



ALFA ROMEO FLYING SAUCER OF DUCK AVENGER
artist: Angelo Simone (Italy)
Computer elaborated drawing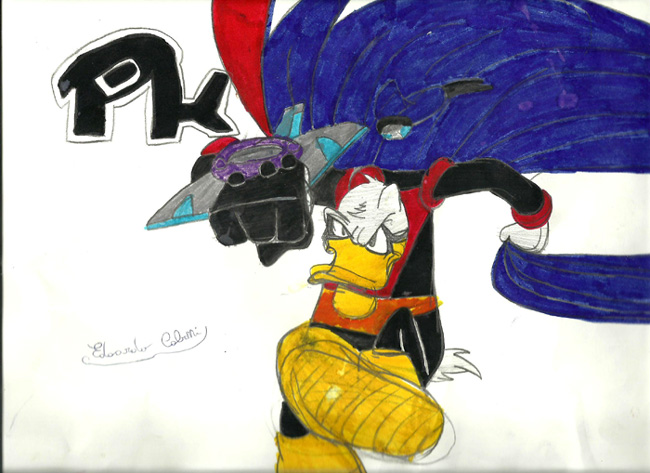 PK
artist: Edoardo Maria Caboni (Italy)
Pencils drawing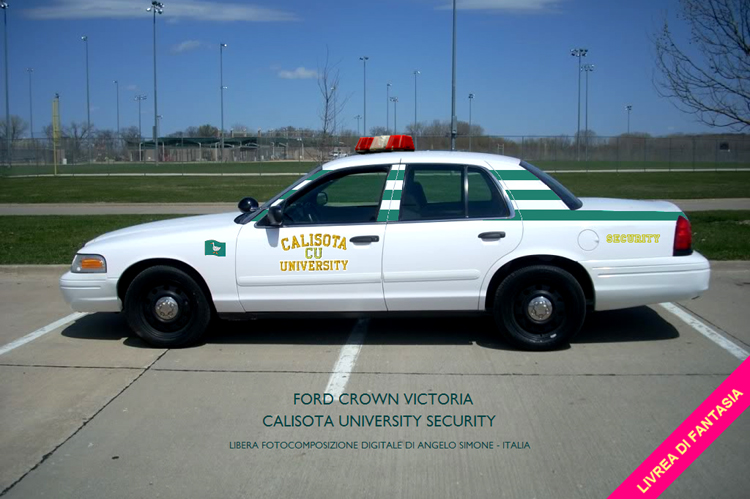 FORD CROWN VICTORIA CALISOTA UNIVERSITY
artist: Angelo Simone (ItalY)
Computer elaborated photo


DONAL DUCK
artist: Fabrizio Scalese (Italy)
Pencils drawing


MAYOR
artist: Fabrizio Scalese (Italy)
Pencils drawing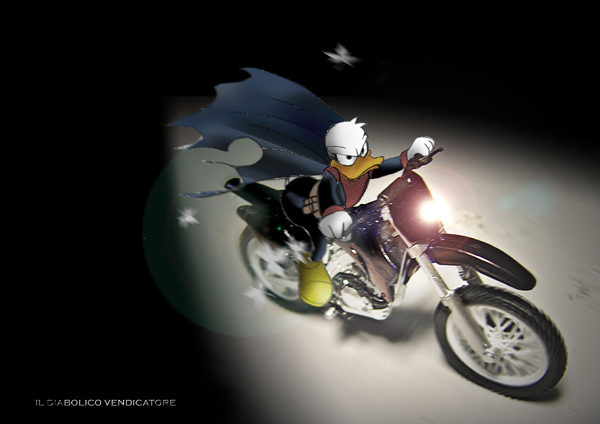 DUCK AVENGER MOTORCYCLE
artist: MIXSTUDIO (Italy)
Computer graphic drawing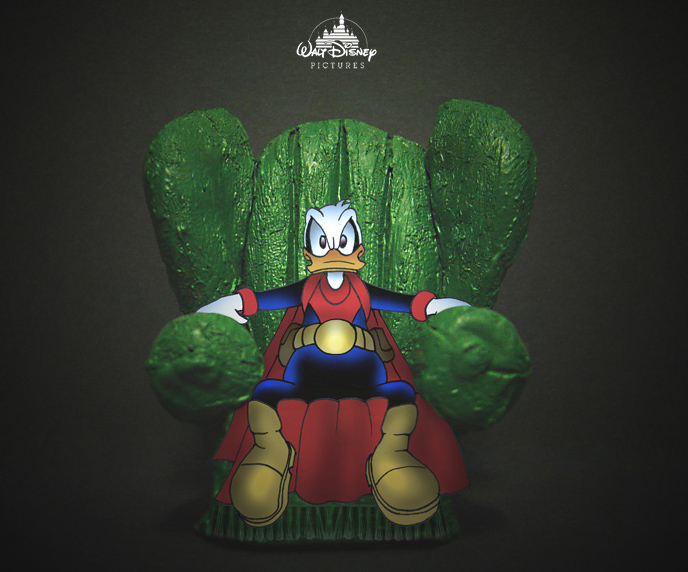 DUCK AVENGER
artist: MIXSTUDIO (Italy)
Computer graphic drawing


DUCK AVENGER
artist: Fabrizio Scalese (Italy)
Pencils drawing


DONALD DUCK
artist: Fabrizio Scalese (Italy)
Pencils drawing


GRANDPA BEAGLE AND BEAGLE BOY
artist: Fabrizio Scalese (Italy)
Pencils drawing


PEG-LEG PETE
artist: Fabrizio Scalese (ItalY)
Pencils drawing


EMPLOY
artist: Fabrizio Scalese (Italy)
Pencils drawing


WORKER
artist: Fabrizio Scalese (Italy)
Pencils drawing


THE GHOST OF FANTOMIUS
artist: Eros Laguradia (Italy)
drawing computer modified


PK AND THE TRIPLE TRUTH
artist: Eros Laguardia (Italy)
Pencils drawing computer colored



DUCK AVENGER BOEING 777-300
artist: Angelo Simone (Italy)
Digital drawing elaborated with Paint of Windows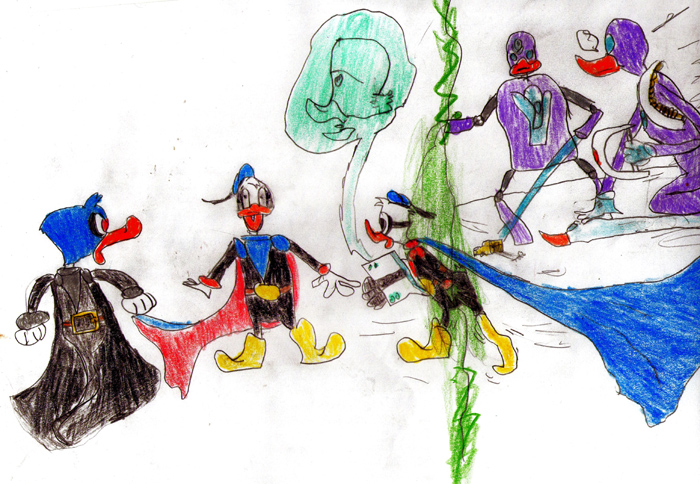 DUCK AVENGER AND THE TRIPLE TRUTH
artist: Eros Laguardia (Italy)
Pencils drawing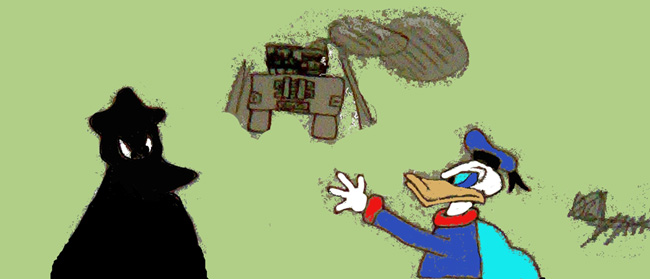 DUCK AVENGER, AND THE PHANTOM OF NOTRE DUCK
artist: Walt Zuti (Italy)
Pencil drawing Computer colored


OK QUACK
artist: Andrea Salimbeti (Italy)
Modelling putty sculture
Award Papersera 2010 to Carlo Chendi


DUCK AVENGER AND VILLA ROSA
artist: MIXSTUDIO (Italy)
Computer graphic drawing


Donald early version
artist: Andrea Cipolla (Italy)
Sculpture with corn putty


THE TRUE STORY OF PK
artist: Elia Aliberti (Italy)
Pencils Drawing


PK
artist: Bruno Santachiara (Italy)
Pencils drawing


PK
artist: Bruno Santachiara (Italy)
Pencils drawing


DUCK AVENGER
artist: Emmanuele Baccinelli (Italy)
Pencil and black ink drawing


GOOD NIGHT SCROOGE
artist: Giovanni Carducci (Italy)
Pencil and black ink drawing


DUCK AVENGER TEASER POSTER
artist: MIXSTUDIO (Italy)
Computer graphic drawing


DUCK AVENGER
artist: Elia Aliberti (Italy)
Computer graphic drawing


DUCK AVENGER
artist: Giovanni Carducci (Italy)
Computer modified drawing


DUCK AVENGER
artist: Federico Daraio (Italy)
Pencil drawing


DUCK AVENGER
artist: Federico Daraio (Italy)
Pencil drawing


DUCK AVENGER
artist: Federico Daraio (Italy)
Pencil drawing


DUCK AVENGER
artist: Bruno Santachiara (Italy)
Colour pencils drawing


DUCK AVENGER
artist: Bruno Santachiara (Italy)
Computer modified drawing


The revenge of PK
artist: Giovanni Carducci (Italy)
Pencil and black ink drawing


PK
artist: Giovanni Carducci (Italy)
Computer colored drawing


DUCK AVENGER's CAR
artist: Vincent Belotti (France)
Self made with carton paper

DUCK AVENGER's CAR
artist: Vincent Belotti (France)
Modification of the Polistil's model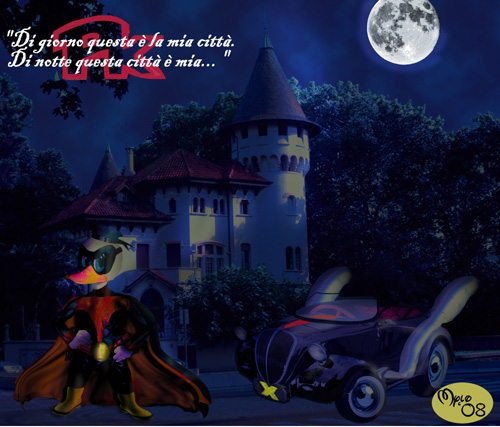 DUCK AVENGER, SPECIAL CAR AND VILLA ROSA
artist: Fabrizio Milovich (Italy)
Images elaborate with photoshop


DUCK AVENGER
artist: MIXSTUDIO (Italy)
Computer graphic drawing

PK
artist: Giovanni Carducci (Italy)
marker and digital colored drawing

SCROOGE MC DUCK
artist: Giovanni Carducci (Italy)
pen and marker drawing

SURPRISE!
artist: Andrea Cipolla (Italy)
Computer Graphic

DUCK AVENGER
artista: Giovanni Carducci (Italy)
Colour Pencils Drawing


Short film The Phantom of Notre Duck
artist: Andrea Cipolla (Italy)
THE PHANTOM OF NOTRE DUCK

DUCK AVENGER
artist: Giovanni Carducci (Italy)
Colour Pencils Drawing


DUCK AVENGER
artista: Giovanni Carducci (Italy)
Colour Pencils Drawing


PACUVIO
artist: Andrea Salimbeti (Italy)
sculpture in modelling putty 12 cm
Award PAPERSERA 2007 to Luciano Gatto

Macchine Impossibili
artista: Andrea Salimbeti (Italia)
Drawing part of the book Award PAPERSERA 2007 to Rodolfo Cimino
click here for a larger version

VILLA LALLA
artist: Andrea Salimbeti (Italy)
sculpture in modelling putty 18x26 cm
reproduced according to the drawings of the story
PAPERINIK E L'ESTATE A VILLA LALLA

DOLLY PAPRIKA
artist: MIXSTUDIO (Italy)
Computer graphic drawing


PK BEGINS
artist: MIXSTUDIO (Italy)
Computer graphic drawing

PK BEGINS
artist: MIXSTUDIO (Italy)
Computer graphic drawing


FANTOMALLARD
artist: MIXSTUDIO (Italy)
Computer graphic drawing

PK BEGINS
artist: MIXSTUDIO (Italy)
Computer graphic drawing


PK BEGINS
artist: MIXSTUDIO (Italy)
Computer graphic drawing

PK GYROHORSE
artist: MIXSTUDIO (Italy)
Computer graphic drawing


PK BEGINS
artist: MIXSTUDIO (Italy)
Computer graphic drawing

FANTOMALLARD
artist: Gio Monti (Italy)
pencil drawing


DUCKBURG IN THE 20s
artist: Andrea Salimbeti (Italy)
click here for a larger version

THE PHANTOM OF NOTRE DUCK
artist: Andrea Salimbeti (Italy)
sculpture in modelling putty 12 cm
based on the Carl Barks story


LORD QUACKETT & OSCAR WILDE
artist: Andrea Cipolla (Italy)
acrylic painting 24x33 cm

QUACKETT FAMILY MAUSOLEUM
artist: Andrea Cipolla (Italy)
water-color painting 24x33 cm

FANTOMALLARD & DOLLY PAPRIKA
artist: Andrea Salimbeti (Italy)
sculpture in modelling putty 12 cm
based on the story PAPERINIK ALLA RISCOSSA

DUCK AVENGER "HOW SHOULD HAVE BEEN"
artist: Juri Ferri (Italy)
Drawing modified on the computer

CARL BARKS' STILE DUCK AVENGER
artist: Andrea Salimbeti (Italy)
oil painting 30x40 cm


LORD QUACKETT alias FANTOMALLARD
artist: Juri Ferri (Italy)
Drawing modified on the computer

PAPERINIK
artist: Dario Brugnone (Italy)
This drawing was created as a Christmas Greeting to the members of the forum "Ruderi di Villa Rosa"

CASA DELL'ERMELLINO / ERMINE'S HOUSE
artist: Andrea Salimbeti (Italy)
sculpture in modelling putty 18x26 cm
reproduced according to the drawings of the story
PAPERINIK CONTRO LE GIOVANI MARMOTTE

SCROOGE McDUCK
artist: Luca Pusterla (Italy)
sculpture in thermohardening plastiline
according to the story by Barks
DONALD DUCK'S CHRISTMAS ON BEAR MOUNTAIN

RICORDO DI UN INCONTRO/ MEMORY OF AN ENCOUNTER
artist: Dario Brugnone (Italy)
This drawing is based on the unpublished story
ZIO PAPERONE E IL FURTO D'ALTRI TEMPI

THE PHANTOM OF NOTRE DUCK
artist: Andrea Cipolla (Italy)
ink drawing
In honor of the famous story by Carl Barks

THE PHANTOM OF NOTRE DUCK
artist: Andrea Cipolla (Italy)
acrylic color drawing
Inspired by the unpublished story
PAPERINIK E IL FANTOMATICO FANTASMA

LA PRIMA MISSIONE / THE FIRST MISSION
artist: Andrea Salimbeti (Italy)
oil painting 20x30 cm
Based on the story by G.B. Carpi
PAPERINIK IL DIABOLICO VENDICATORE

FANTOMALLARD "THE TERROR OF DUCKBURG"
artist: Dario Brugnone (Italy)
computerized drawing inspired by the cover of the first novel about the adventures of Fantomas

L'OMBRA DEL VENDICATORE / THE AVENGER's SHADOW
artist: Andrea Cipolla (Italy)
acrylic painting 24x33 cm
The other paintings by the artist can be found in the website L'Album di Andrea.

SUPERPATO
artist: Arthur Paludetto Duque (Brasile)
The drawing is taken from the website
Fantonald.com

SCROOGE McDUCK
artist: Andrea Salimbeti (Italy)
clay sculpture height 15 cm
Based on the story by Don Rosa KING OF THE KLONDIKE

The statue was presented as a gift to Don Rosa
in the occasion of Torino Comics 2002
In the photo: Don Rosa and Andrea Salimbeti during the handover.
Photo by Anonima Fumetti

PAPERINIK E PAPERINIKA
artist: Juri Ferri (Italy)
Drawing modified on the computer


KING OF THE KLONDIKE
artist: Juri Ferri (Italy)
Drawing modified on the computer

FANTONALD
artist: Robert Bull (Norway)
The drawing is taken from the website
Fantonald.com

FANTOMALLARD
artist: Andrea Salimbeti (Italy)
oil painting 35 x 50 cm

FANTONALD
artist: Alphonse Capone (Norway)
The drawing is taken from the website
Fantonald.com

FANTONALD
artist: Alphonse Capone (Norway)
The drawing is taken from the website
Fantonald.com

PATOMAS
artist: David Salgado Fuentes (Spain)
Clay sculpture height 30 cm

TIO GILITO
artist: David Salgado Fuentes (Spain)
Clay sculpture height 30 cm

PAPERINIK IL DIABOLICO VENDICATORE
artist: Andrea Salimbeti (Italy)
oil painting 46x30 cm

FANTOMALLARD AND DOLLY PAPRIKA
artist: Andrea Salimbeti (Italy)
oil painting 50x35 cm

DUCK AVENGER
artist: Andrea Salimbeti (Italia)
putty sculture
Based on the second episode of the story DUCK AVENGER THE DEVILISH AVENGER

VILLA ROSE
artist: Andrea Salimbeti (Italia)
putty sculture

VILLA ROSA FOTO D'EPOCA
artist: Stefanie Gröner (Germany, USA, Italy)
photo compositing and elaboration on the computer
of the model of Villa Rosa

UNCLE SCROOGE AND THE PHANTOM OF NOTRE DUCK
artist: Andrea Salimbeti (Italy)
modelling putty sculpture height 12 cm
based on the story by Barks THE PHANTOM OF NOTRE DUCK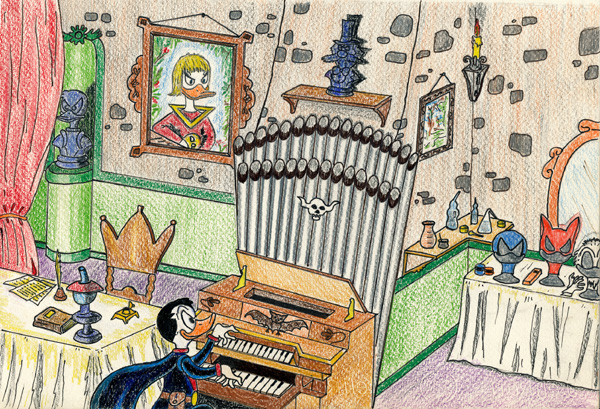 QUARTIER GENERALE DI FANTOMIUS / FANTOMALLARD HEADQUARTER
artist: Andrea Salimbeti (Italy)
pencil drawing 20x30 cm
inspired by the story PAPERINIK E IL RITORNO A VILLA ROSA